The Blackhawks lost 1-0 to the Sharks. Antti Niemi got his first shutout of the year and earned it. And this Thanksgiving, I am thankful for Doug Wilson.
Doug Wilson, you have no idea how happy I am to know that you are in charge of making the San Jose Sharks a better team. Your class and professionalism are a tribute to the sport and the Sharks organization. I love that you don't give people ridiculous contracts, and that Heatley contract that I didn't like that featured a no-trade clause? you found a way out of it. and you got Martin Havlat! You're the greatest. Most sports fans don't know the warm, comforting feeling of having complete faith in their team's management and I feel lucky to have it. Thank you, Doug Wilson, for making this team a fun one to watch, year after year.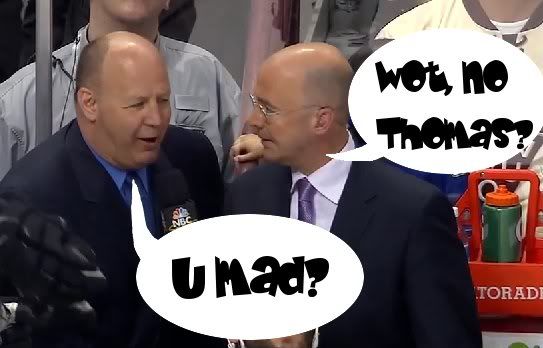 In other news, the NHL spent a great deal to advertise the "new tradition" that is the NHL Thanksgiving Showdown on NBC, because apparently something can be a tradition even if it hasn't been done twice or, at the time of advertising, once. I didn't watch the parade and thus, sadly, missed Cee Lo Green's performance on the NHL float, but I did watch the game on Friday. It was a good match-up between the Bruins and the Red Wings in Boston and yet I found it very tedious. It really made me realize how much I dislike the NBC crew. Pierre McGuire is insipid. Mike Milbury is a blowhard. Emerick and Olzyck are not very pleasant to listen to. And maybe I just don't like that they're not on any one side. It's not football. It's weird to have a nationally televised game presented as an NHL showcase, because that's not typically how we watch hockey. I'm happy to tune into another team's broadcast and check out what's happening elsewhere in the league or when I need something in the background while I'm cooking.

NBC spent a lot of time pushing the Tim Thomas/Jimmy Howard angle of this game, possibly because they're both American. At any rate, the Bruins played Tuukka Rask in net and NBC didn't seem to pick it up until half-way through the first period, so engrossed were they in their own talking points. No back-up goalie was going to stop them from talking all about Thomas and then asking about him in the behind-the-bench interview with Bruins Coach Claude Julien.
I skipped ahead and then turned it off at the end of overtime. The shoot-out would have only made the game seem even more like an exhibition.